Accommodation
Auberge du Mont has 34 comfortable rooms, all with private bathroom. Occupancy is three to four students per room. Young people bring their sleeping bags, towels and toiletries.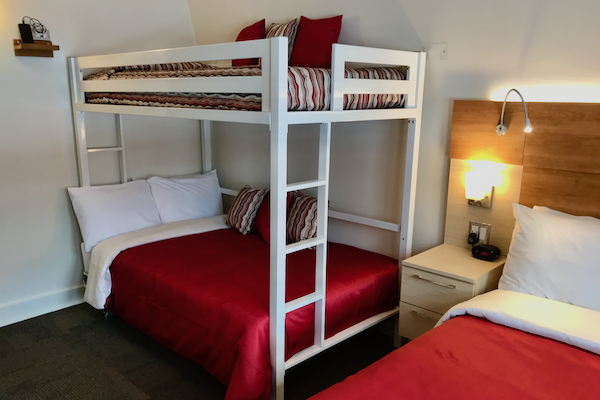 Food
Our cooks attach great importance to the quality of the meals offered and to healthy eating. We serve complete and varied meals including soup or soup, main course (2 choices), side vegetables, salad table, choice of desserts and drinks (milk and juice). We also provide snacks for groups staying.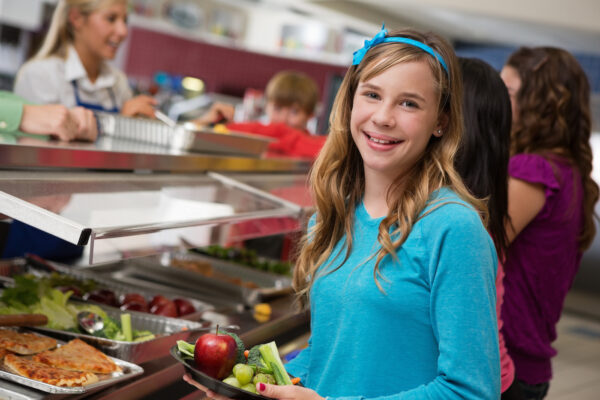 Animation
Conscientious and dynamic facilitators bring the entire program to life. The ratio is 1 for 12 to 15 young people. Our animation staff have undergone intensive and relevant training, their respective experiences are significant and complementary. The program managers are also attentive to the speakers and ensure that the stay is rewarding and exciting.
Resources
We have all the necessary equipment to carry out the activities. We offer hotel resources in a vacation center … a living room with rustic character, a fireplace, meeting rooms and a cafeteria with a panoramic view of the Jacques-Cartier River. And what about our environment! It is an extraordinary classroom.
Preparation for the stay
We attach a lot of importance to the preparation of the stay. We agree on orientations with the teachers. This is about establishing our educational complicity.
Class Nature school trips
The "nature class" programs are mainly intended for pupils of the 1st, 2nd and 3rd cycle of primary education, but they can also be offered to secondary pupils. Their duration varies between 1 and 4 days. Students and teachers are called upon to experience activities that tackle natural science themes using the environment as a pedagogical focus. Activities are chosen specifically according to ages, interests and educational goals. These outdoor activities in the fall, winter or spring allow young people to live an intense outdoor experience that is out of the ordinary.
Activities
Let's discover nature … like a classroom!
Observation and interpretation
Mountain expedition
Nordic skiing
Slide on inner tube
Racket
Night hike
Forest life and notions of survival
Orientation initiation (map and compass)
Let's learn a little more …
Astronomy
The plant world
Animal world
Seasons
Water, air, soil, forest …
Let's have more fun!
Sports activities in the gymnasium
Cooperative games
Animation games
Do-it-yourself
Team building and problem solving games
Campfire
Songs, stories and legends in the foyer …
Immersion school trips
The Auberge du Mont offers turnkey style stays specially designed for school groups from English-speaking schools with French immersion as an educational priority. These trips are led and supervised in French, while respecting the pace and levels of learning.
A judicious combination of educational, cultural and physical activities, this trip includes the following dimensions, among others: visit to the sites and attractions of Quebec City (*), linguistic and intercultural games, outdoor activities in the forest and workshops in environmental education (ERE). These stays of variable duration, 5 to 8 days, are tailor-made to the teacher's preferences. They allow young people to understand Quebec culture through numerous learning experiences and within an interactive and motivating model. It is a concrete and effective way to immerse yourself in French Canadian culture and to validate your own skills in French as a second language.
(*): It is also possible to include a portion in Montreal according to preference (option).
Some of the featured activities of our stays:
At L'Auberge du Mont (Saint-Gabriel-de-Valcartier)
Workshops on Quebec culture (songs, dances, language);

"Nature" activities such as campfires, stargazing;

Group cohesion and problem solving games;

A bilingual exchange and some activities with the students of our

school (MSS);

Outdoor activities: snowshoeing, cross-country skiing, hiking, forest life;

Snow sliding package at Village Vacances Valcartier.
In Quebec
Discovery hike of Old Quebec, the Old Port and Place Royale;

Observatory of the Capital;

Multimedia "Canada Odyssey" and historical role-playing game "Tower soldier";

Quebec Circus School (initiation workshop);

Guided tour of the Parliament (National Assembly).
In
the
Quebec
region
Visit of the traditional Huron-Wendat site;

Quebec supper and animation at the maple grove (sugar shack);

Parc de la Chute Montmorency;

Basilica of Sainte-Anne-de-Beaupré.
In Montreal (optional suggestions)
Visit of the Biôdome;

Visit of the Pointe-à-Callière Museum;

Montreal Science Center;

Meal with a New France theme;

Discovery on foot of Old Montreal.